Jakich błędów unikać przy układaniu kostki brukowej?
Układanie kostki brukowej wymaga fachowej wiedzy oraz doświadczenia. To wieloetapowy proces, który powinien być każdorazowo dostosowany do rozmaitych czynników. Na co zwracać uwagę, planując wykończenie przydomowej nawierzchni?
Zadanie dla profesjonalistów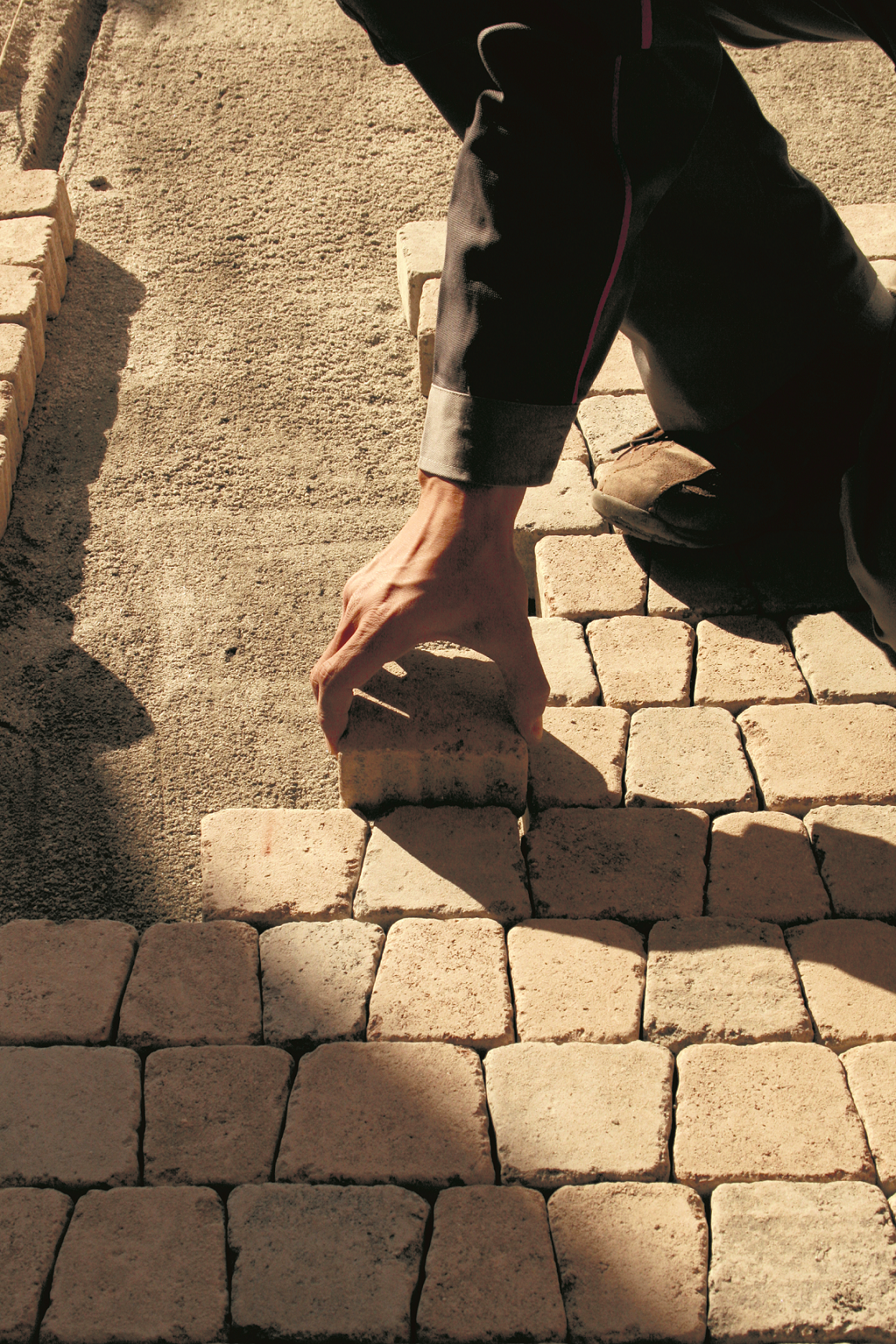 Przede wszystkim ważne jest korzystanie z pomocy fachowców – doświadczeni i odpowiednio przeszkoleni, znają oni aktualne technologie montażowe, potrafią ocenić stan podłoża oraz specyfikę wybranego asortymentu.
Ocenić potrzeby
Niezwykle istotne jest trafne określenie przeznaczenia tworzonej nawierzchni. Nawet najatrakcyjniejsza kostka nie będzie nas cieszyć długo, jeśli jej parametry nie zostaną dopasowane m.in. do przewidywanych obciążeń i natężenia ruchu. Przykładowo, należy unikać stosowania zbyt dużych i cienkich materiałów (4-6 cm) na podjazdach czy parkingach.
Uwaga na podbudowę
Do podstawowych błędów typowo wykonawczych zaliczyć można natomiast nieprawidłowe wykonanie podbudowy. Wynikać może ono z niedostosowania jej grubości do rodzaju podłoża i charakteru planowanych obciążeń. W przypadku miejsc przeznaczonych dla ruchu pieszego na ogół wystarczy warstwa ok. 20 cm, a dla powierzchni, które będą poddawane większym obciążeniom, zaleca się minimum 30-40 cm. Nie wolno też zapominać o zadbaniu o ukształtowanie terenu, umożliwiające właściwe odwodnienie konstrukcji nawierzchni, zgodnie z wymaganiami określonymi w dokumentacji projektowej. I wreszcie, podbudowa powinna być z każdej strony obramowana opornikami, pomiędzy którymi będzie układana kostka. Coraz częściej odradza się także stosowania warstwy wyrównującej z mieszanki piaskowo cementowej (zwłaszcza, jeśli jest wykonywana metodą na mokro przy wysokich temperaturach i na zbyt dużym obszarze, wyprzedzającym czynności zagęszczania). W wysokich temperaturach podbudowa cementowo piaskowa dość szybko wiąże i staje się na tyle sztywna, że nie pozwala na odpowiednie zagłębienie się płyty dla wyrównania różnic wysokości między ułożonymi elementami. Jak najbardziej wskazane jest natomiast użycie do warstwy wyrównującej grubego czystego piasku. Z powodzeniem można wykorzystać także frakcjonowane grysy o dostępnych na rynku frakcjach: 1-3; 1-4; 2-5; a nawet 2-8.
Kropka nad i
Również późniejsze etapy wykonawcze narażone są na zupełnie niepotrzebne błędy, które mogą wywołać poważne szkody. Należy do nich niewłaściwe komponowanie elementów, wynikające z nieuwzględnienia naturalnych różnic w ich odcieniach, typowych dla produktów betonowych. Prowadzi to do powstania niepożądanego efektu estetycznego w postaci niejednolitej nawierzchni. Problemu tego unikniemy, jeśli podczas brukowania będziemy mieszali wyroby z trzech różnych palet. Kolejnym niepożądanym działaniem jest zbyt ciasne układanie kostek, skutkujące odpryskiwaniem ich górnych krawędzi. Dla powierzchni chodników szerokość spoin powinna wynosić 2-3 mm, a przy nawierzchniach drogowych minimum 3 mm.
---
Dowiedz się więcej:
Poznaj wzory i rodzaje kostki.