Kostka podwójnie chroniona – technologia ALS na straży nieskazitelnej nawierzchni
Brukowe materiały nawierzchniowe odznaczają się bardzo wysokimi parametrami technicznymi. Jednak aby przez wiele lat zachowały piękny wygląd, ważna jest nie tylko wytrzymałość na uszkodzenia, ale i odporność na zmienne warunki atmosferyczne. Innowacyjny system ALS (Anti Liquid System), zastosowany przy szlachetnych kostkach z linii Libet Decco oraz niektórych produktach w grupach Impressio i Completto, w znacznym stopniu ogranicza nasiąkliwość materiału, przez co ułożona z niego nawierzchnia, nawet przy wieloletnim użytkowaniu, prezentuje się estetycznie.
Aby otoczenie naszego domu odznaczało się równie estetycznym wyglądem co jego wnętrze, bardzo ważne są regularne prace porządkowe. Standardową procedurą w przypadku nawierzchni z kostki brukowej jest poddawanie jej sezonowej impregnacji, która poprzez wzmocnienie wierzchniej warstwy ogranicza jej nasiąkliwość oraz chroni przez zabrudzeniami i nalotami z pleśni. Choć specjalistyczne impregnaty w dużym stopniu pozwalają zabezpieczyć nawierzchnię, to z czasem, na skutek działania czynników atmosferycznych, ulegają one wypłukaniu, przez co czynność tę należy powtarzać każdego roku od nowa. Na szczęście istnieją materiały, które już na etapie produkcji poddawane są złożonym procesom technologicznym, mającym na celu wzmocnić ich naturalną odporność. Należą do nich między innymi szlachetne kostki z linii Libet Decco. Dzięki wykorzystaniu systemu ALS (Anti Liquid System) ich struktura ulega uszczelnieniu nie tylko w warstwie wierzchniej, ale i od wewnątrz. Przez to są one bardziej odporne na wchłanianie substancji powodujących trwałe zabrudzenia. Poprzez zminimalizowanie nasiąkliwości nie tylko wyeliminowane zostało ryzyko powstawania plam, ale również przenikania wilgoci, która w dłuższej perspektywie czasu sprzyja pojawianiu się nalotów biologicznych. Wybierając kostkę z technologią ALS zyskujemy ponadto gwarancję, że każdy element charakteryzuje się jednakowo wysoką odpornością. W przypadku samodzielnej impregnacji zdarzyć się może, że jedną część nawierzchni pokryjemy preparatem dokładniej, a inną mniej. Z kolei Anti Liquid System jest integralną częścią każdej kostki, dzięki czemu zapewnia trwałe zabezpieczenie każdego fragmentu nawierzchni.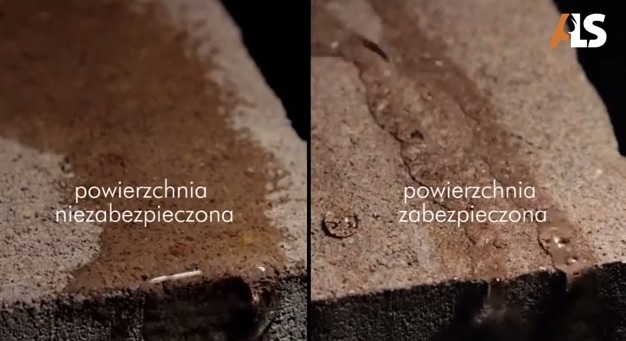 Należy oczywiście pamiętać, że naturalna odporność kostki, w połączeniu z systemem ALS, pełnią przede wszystkim rolę wspomagającą i nie zwalniają całkowicie z konieczności dbania o brukowaną nawierzchnię. Każde podłoże tego typu powinno być regularnie zamiatane oraz okresowo czyszczone, a spoiny odchwaszczane i systematycznie uzupełniane piaskiem. Mimo wysokiej odporności względem płynnych zabrudzeń nie zaszkodzi również raz na jakiś czas pokryć nawierzchnię impregnatem, który odświeży jej wygląd oraz przedłuży trwałość. Kostki z linii Libet Decco, które wzbogacono systemem ALS, sprawią, że ułożona z nich nawierzchnia na wiele lat zachowa swój oryginalny kolor oraz nieskazitelny wygląd.
---
Polecamy:
Wzory kostki brukowej na Libet.pl