Liczy się produkt – dlaczego nie warto oszczędzać na kostce brukowej
Polacy znani są ze szczególnego upodobania do oszczędności – uwielbiają promocje, okazyjne zakupy i ograniczanie wydatków do niezbędnego minimum. W przypadku niektórych inwestycji, zwłaszcza jeśli mamy na myśli materiały budowlane mające służyć przez wiele lat, nie zawsze okazuje się to wskazane. Przykładem może być kostka brukowa, na której nie zawsze warto jest oszczędzać.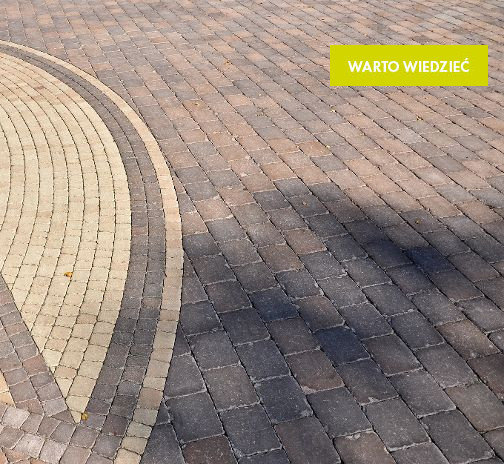 Budowa i wykończenie domu z ogrodem to bardzo kosztowna inwestycja, którą rozkładamy niekiedy na wiele lat. Aby jak najszybciej zakończyć prace i nie nadszarpnąć zbytnio domowego budżetu, staramy się ograniczać wydatki, szukając tańszych alternatyw. Niestety nie zawsze jest to dobry pomysł, gdyż bardzo często za ceną idzie jakość. Ma to ogromne znaczenie zwłaszcza w przypadku materiałów budowlanych, które są użytkowane przez długie lata. Nie chodzi przecież o to, by pięknie wykończony dom i ogród szybko stracił swoje walory estetyczne, a co gorsza trwałość.
Przesadna oszczędność nie do końca wskazana jest podczas zakupu elementów poddawanych intensywnej eksploatacji, a często również działaniu niekorzystnych czynników atmosferycznych. Dotyczy to między innymi nawierzchni, w przypadku której materiały użyte do jej budowy przechodzą prawdziwą próbę. Dlatego też dobrym kierunkiem może okazać się wybór produktów o podwyższonym standardzie, np. kostek brukowych z segmentu Premium. Zwłaszcza jeżeli weźmiemy pod uwagę fakt, że jednostkowa wyższa cena produktu nie musi od razu znacząco podnieść kosztów całej inwestycji. W ogólnym rozrachunku cena zakupu kostek brukowych to jedynie 30% całego budżetu, pozostałe 70% pochłania robocizna, transport i przygotowanie podłoża. Decydując się na kostki Premium dokładamy zatem niedużo, a zyskujemy pewność, że wybraliśmy produkt najwyższej jakości, który w niezmienionej formie będzie nam służył przez lata. Kostki brukowe z tej grupy wykonywane są bowiem ze szlachetnego kruszywa, z wykorzystaniem innowacyjnych technologii produkcji. Dzięki temu charakteryzują się nie tylko długoletnią trwałością i wyjątkowo eleganckim wyglądem, ale również szeregiem dodatkowych właściwości, jak np. antypoślizgowość czy dodatkowa impregnacja. Wybierając więc materiały droższe, które podnoszą ogólny koszt jedynie o 8-22%, nie ponosimy ryzyka związanego z zastosowaniem produktów niższej jakości, które znacznie szybciej mogą utracić swój estetyczny wygląd i właściwości.
Jak mawia staropolskie przysłowie – chytry dwa razy traci. Błędne kierowanie się ceną w przypadku kostki brukowej może skutkować jedynie pozorną oszczędnością. Z biegiem lat nawierzchnia straci swój perfekcyjny wygląd, a co najgorsze obniżeniu ulegnie też komfort i bezpieczeństwo jej użytkowania.
---
Polecamy:
Poznaj wzory i rodzaje kostki brukowej.