Płyty tarasowe bez klejenia.
Czy to możliwe?

Czy zabudowując taras płytami ceramicznymi lub betonowymi musimy używać kleju? Montaż za pomocą klejów (tzw. metoda "na mokro") to tylko jedna z kilku dostępnych technik. Możemy z powodzeniem zamontować płytki na taras bez kleju. W jaki sposób to zrobić? Przedstawiamy trzy metody, aby stworzyć taras bez użycia kleju.
Nowoczesna zaprawa drenażowa
Zaprawa drenażowa polecana jest wszędzie tam, gdzie szczególnie zależy nam na tym, aby płyty były w 100% stabilnie i trwale zamocowane. Technologia ta w znacznym stopniu ogranicza niebezpieczeństwo powstawania szkód spowodowanych mrozem oraz wykwitów z wody "stojącej". W tym przypadku płyty montuje się na podbudowie z kamienia naturalnego lub na odpowiednio przygotowanej wylewce betonowej.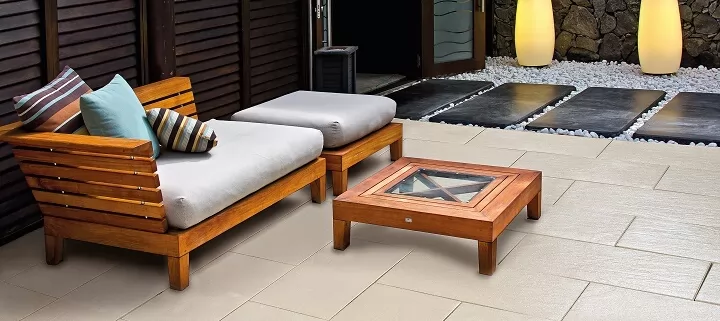 Choć jest to sposób na płytki na taras bez klejenia, to akurat montaż przy użyciu zaprawy drenażowej w pewnym stopniu przypomina klejenie. Jest to również metoda wykonywana "na mokro". Mimo to warto rozważyć jej zastosowanie. Taras ułożony w ten sposób jest wyjątkowo stabilny, a zabudowa zyskuje wysoką mrozoodporność i wodoprzepuszczalność. Należy przy tym zwrócić szczególną uwagę na odpowiednie odprowadzenie wody, a co za tym idzie – zastosowanie wodoprzepuszczalnej fugi.
Układanie płyt bezpośrednio na gruncie
Jeśli natomiast nie chcemy tworzyć tak zwartych konstrukcji, a taras nie został jeszcze wylany betonem – płyty tarasowe można po prostu ułożyć na gruncie. Oczywiście metoda ta nie polega jedynie na ułożeniu płytek na ziemi. Podbudowa musi zostać do tego odpowiednio przygotowana i zagęszczona. Rozwiązanie to ułatwia późniejszy demontaż i wymianę płyt. Może być stosowane nawet w przypadku mniejszych i smuklejszych płytek, np. gresu drewnopodobnego.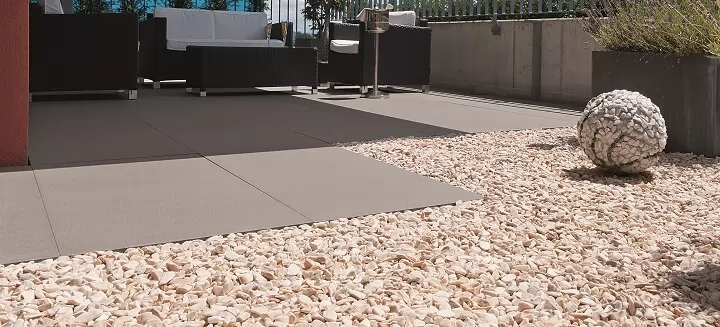 Przy tej metodzie w pierwszej kolejności należy usunąć trawę i wykopać dół (jego głębokość będzie zależała od rodzaju i nośności gruntu rodzimego). Następnie należy rozłożyć geowłókninę i wysypać dwie warstwy żwiru o frakcji 40-80 mm (głębokość 30-50 cm) oraz 0-20 mm (gł. 20-40 cm). Na to dochodzi kolejna warstwa żwiru, tym razem o frakcji 3-6 mm i głębokości 2-5 cm. Na tak przygotowanym podłożu można już układać płyty. Pamiętać przy tym trzeba o zachowaniu odpowiednich odstępów między nimi oraz o fugowaniu.
Wygoda tarasu wentylowanego – bez kleju i fug
Kolejnym sposobem na płyty tarasowe bez klejenia jest ustawienie ich na wspornikach. Jest to zdecydowanie najprostsza i najszybsza metoda montażu. Co równie ważne – zabudowa tarasu wentylowanego może być wykonana niemal w każdych warunkach atmosferycznych. I co równie wygodne – przy tej metodzie nie fuguje się odstępów między płytami. Wymagane jest natomiast dobrze przygotowane stabilne i płaskie podłoże np. w postaci wylewki betonowej.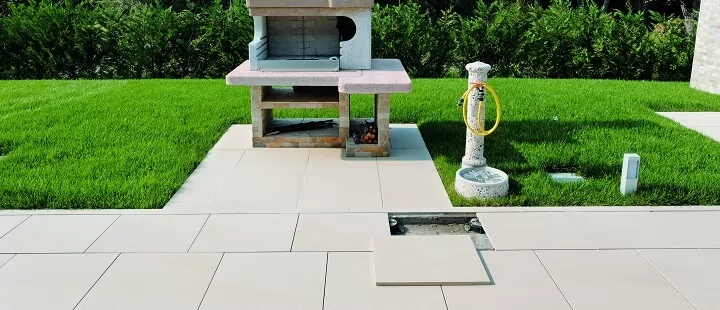 Sam montaż na przygotowanym podłożu w dużym skrócie polega na ułożeniu płyt tarasowych na specjalnych podstawkach. Warto wiedzieć, że na rynku dostępne są różne wymiary wsporników tarasowych (od 8 mm do 320 mm). Zatem taras na wspornikach wcale nie musi oznaczać układania płyt dużo powyżej podłoża. Z drugiej strony – możliwe jest zastosowanie wyższych konstrukcji (nawet do 100 cm), które pomogą w ukryciu, np. mechanizmu fontanny. Jednak przy tego typu zabudowach zalecamy skorzystanie z pomocy projektanta, który obliczy wytrzymałość konstrukcji i dobierze odpowiednie materiały.
Jak wybrać płytki na taras bez klejenia?
Wybór płyt tarasowych w pewnym stopniu zależny jest od metody, jaką będą one układane. Jak widzimy – samo stwierdzenie, że chcemy stworzyć taras bez klejenia to za mało – nadal mamy kilka technik do wyboru. Na szczęście jest parę uniwersalnych zasad odnośnie wyboru odpowiednich płytek na taras.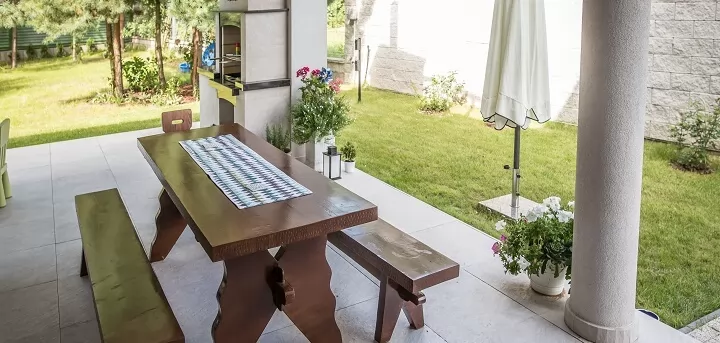 Przede wszystkim muszą to być płytki zewnętrzne, które są mrozoodporne. Dobrze jeśli będą one również antypoślizgowe. Nie muszą być grube, dobrze sprawdzą się również lekkie elementy, np. 2-centymetrowe płyty ceramiczne z gresu porcelanowego. Warto również pomyśleć o wytrzymałości wybranego materiału, jego łatwym czyszczeniu lub ewentualnej impregnacji, aby taras prezentował się pięknie nawet po latach użytkowania.