Styl formalny i swobodny – 4. odcinek cyklu "Inspiracje Ogrodowe"
Styl swobodny i styl formalny to dwa skrajne typy aranżacji ogrodów. Czym się one charakteryzują i jak je uzyskać? Odpowiedzi na te pytania udziela w kolejnym odcinku "Ogrodowych Inspiracji" architekt krajobrazu, Agata Niedziałek.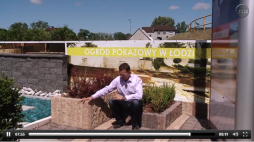 Polskie ogrody bardzo często utrzymane są  zarówno w stylu swobodnym, jak i formalnym. Pierwszy z nich (zwany też nieformalnym) należy chyba do najbardziej popularnych, gdyż łączy ze sobą kilka rozwiązań aranżacyjnych. Można powiedzieć, że poszczególne części ogrodu mają inny charakter – od naturalistycznego i wiejskiego, aż po formalny, co gwarantuje wyjątkowość i niezwykłość takiego miejsca.
W ogrodzie utrzymanym w stylu swobodnym właściciel występuje w roli "widza", który przechadza się krętymi ścieżkami po swoim terenie, obserwując piękno natury. Przy czym taki ogród zmienia nieco swój wygląd wraz z nadejściem kolejnych pór roku, co szczególnie widać  przede wszystkim po roślinności. Charakterystycznymi elementami są też huśtawki, ławeczki oraz krzesła na których można usiąść i podziwiać ogród. Nie oznacza to jednak, że ogród taki nie wymaga pracy. Wręcz przeciwnie – jego utrzymanie wiąże się ze znacznym poświęceniem. Plusem jednak jest to, że w tym przypadku możemy pozwolić sobie na większą swobodę w wyborze roślin oraz elementów architektury ogrodowej. W przypadku doboru nawierzchni sprawdzą się tu produkty z linii Decco Antico i Libet Stampo.
Inaczej jest w przypadku ogrodu utrzymanego w stylu formalnym. Tu obowiązuje symetria oraz proste, geometryczne przestrzenie. Jest to więc rozwiązanie, które powinno przypaść do gustu miłośnikom porządku i ładu. Tu rytmiczną kompozycję podkreślają regularne rzędy krzewów, powtarzające się gatunki roślin bądź kamienne elementy na powierzchni. Charakterystyczne dla ogrodu formalnego jest również symetryczne rozmieszczenie dekoracji po obu stronach osi (np. dwie donice po obu stronach ścieżki lub przy tarasie). Mile widziane są też ogrodowe rzeźby, które nadadzą temu miejscu dodatkowej elegancji. Tu jeśli chodzi o nawierzchnię idealnie sprawdzą się produkty z linii Decco Elegante czy Libet Impressio.
Więcej informacji i wskazówek architekta krajobrazu na temat ogrodów utrzymanych w stylu formalnym i swobodnym można znaleźć w 4. odcinku "Ogrodowych Inspiracji". Zachęcamy do obejrzenia filmu.
https://www.youtube.com/watch?v=MQ4LK0l618M&list=PLJdB7c5nWKeZdnflmEij6iqnfxKZmdkDX&index=4