Wyjątkowe kolory nawierzchni – produkty tworzone w technologii Color Flex
Gra kolorem, również w przypadku betonowych nawierzchni, daje niezwykły efekt. Widać to szczególnie w przypadku produktów firmy Libet wytwarzanych w technologii Color Flex. Stworzone z ich pomocą ścieżki czy podjazdy przykuwają uwagę, pozwalając na uzyskanie niezwykłego efektu wizualnego.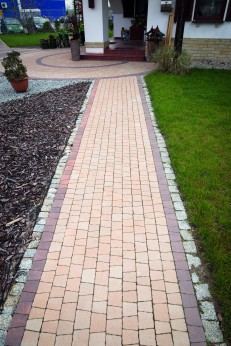 Różnorodne odcienie, nadające posesji niepowtarzalny wygląd, uzyskiwane są dzięki betonowej mieszance o wyjątkowym składzie oraz specyficznym sposobie barwienia Color Flex. Polega on na cieniowaniu poszczególnych barw wyrobu. Powstała w ten sposób kostka jest nie tylko "cudownie nieidealna", ale też zachwyca niezwykłymi, kolorystycznymi melanżami. Związane jest to z tym, że każda z nich produkowana jest z naturalnych składników, takich jak piasek czy kruszywa, których barwa może się różnić i z tego względu wpływać na wahania odcieni samego produktu.
Pełen wachlarz odcieni
Technologia Color Flex  wykorzystywana jest w produktach z grupy Libet Decco Colormix, dostępnych w pięciu komponujących się ze sobą kolorach: karbonowym, muszelkowym, tytanowym, pastello i kasztanowym. Ten ogromny wachlarz odcieni pozwala na tworzenie atrakcyjnych wzorów w obrębie jednej kolekcji i uzyskanie pożądanego rozkładu barw, co znacznie podnosi walory estetyczne nawierzchni. Dla maksymalnego efektu należy też układać kostki z minimum trzech różnych palet. Najlepiej pochodzących z jednej partii produkcyjnej, co pozwoli ujednolicić wygląd bruku w przypadku drobnych naturalnych odchyleń od barwy lub wysokości kostki. Warte podkreślenia jest też to, że powstający na brukowanej nawierzchni charakterystyczny melanż – uzyskany dzięki technologii Color Flex – daje ciekawy efekt, przy niedużym nakładzie pracy. Dodatkowo, różnorodność ta pozwala na zastosowanie tych kostek przy wielu aranżacjach nawierzchni – od klasycznej, po całkowicie nowoczesną.
---
Polecamy na Libet.pl: