Nowoczesny taras wentylowany


Taras wentylowany to jedna z technologii wykonywania tarasów. Sprawdza się zarówno na dobrze utwardzonym gruncie, jak też na nowych czy starych, stabilnych wylewkach betonowych. Uważna za najprostszą i najszybszą metodę, daje jednocześnie w pełni zadowalające efekty użytkowe i estetyczne przy stosunkowo niskich kosztach.
Właśnie dlatego popularność technologii układania tarasu na wspornikach stale rośnie wśród inwestorów indywidualnych i deweloperów. Charakterystyczna konstrukcja tarasu wentylowanego opiera się na trzech elementach: podbudowa – wsporniki – płyty tarasowe.
Taras na wspornikach – podstawowe informacje o układaniu płyt tarasowych na tzw. dystansach
Technologia tarasu wentylowanego ma liczne atuty, które nie tylko upraszczają i przyspieszają budowę, ale również stwarzają wyjątkowe możliwości użytkowe. Nawierzchnię tworzą płyty ułożone na specjalnych wspornikach ustawionych na stabilnym podłożu. Jej wykonanie nie wymaga użycia specjalistycznych narzędzi, niepotrzebne są też specjalne umiejętności. Prostsze i mniej czasochłonne (w porównaniu z innymi technologiami) jest przygotowanie podłoża, a nawierzchnia okazuje się być lekka, trwała, bezpieczna i estetyczna.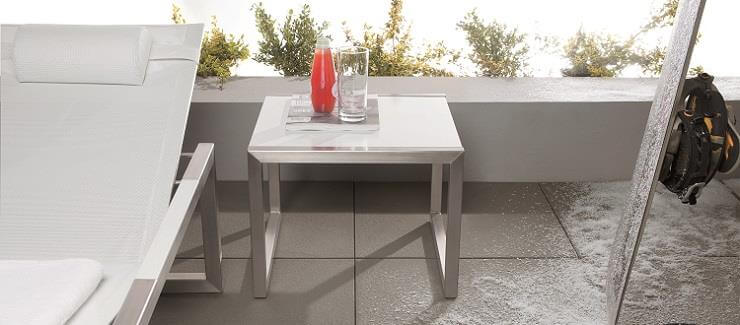 Zastosowanie wsporników pozytywnie wpływa na cechy użytkowe tarasu. Dzięki nim konstrukcja jest m.in. mrozoodporna – płyty tarasowe nie mają bezpośredniego kontaktu z podłożem i tym samym są znacznie mniej narażone na niszczące działanie zamarzającej wody. Nie występują również efekty odspajania się płyt oraz tzw. stojących kałuż, bo woda opadowa swobodnie spływa poprzez szczeliny między płytami.
Przestrzeń między podłożem a płytami jest idealnym miejscem na poprowadzenie instalacji, np. elektrycznej, alarmowej, ciepłowniczej, oświetleniowej czy wodnej. Trzeba przy tym podkreślić, że każdą z tych instalacji można zrobić w dowolnym czasie – nie tylko w chwili układania tarasu.
Montaż tarasu może też odbywać się w okresach, kiedy temperatura powietrza spada poniżej 0°C. Natomiast w razie ewentualnej awarii wystarczy podnieść część płyt i usunąć uszkodzenie, a potem położyć je na swoje miejsce. Ponadto wsporniki zapewnią dobrą wentylację całej konstrukcji tarasu. W technologii tarasu wentylowanego równie proste i szybkie jest zamontowanie płyt. Tak samo – gdy zaistnieje potrzeba – błyskawiczny jest ich demontaż na każdym etapie użytkowania. Zdjęte płyty, jak i wsporniki, o ile nie mają mechanicznych uszkodzeń, nadają się do ponownego wykorzystania np. w innej części działki.
Etapy układania tarasu na wspornikach
Wykonanie tarasu w technologii wentylowanej przebiega w dwóch etapach. Pierwszym z nich jest przygotowanie podłoża. Zarówno podbudowa betonowa, jak i na gruncie są wykonywane podobnie jak w pozostałych technologiach.
W obu przypadkach ważne jest, aby podłoże było równe i stabilne oraz posiadało system drenażu i odpowiednio wyprofilowane spadki ułatwiające odprowadzanie wody. Należy je również zabezpieczyć przed niekorzystnym wpływem warunków atmosferycznych, czyli wykonać izolację przeciwwilgociową (papa termozgrzewalna, środki bitumiczne, folie i membrany dachowe itp.), zwracając szczególną uwagę na uszczelnienie narożników. Dopiero na takim podłożu można ustawiać wsporniki, które będą oparciem dla płyt tarasowych.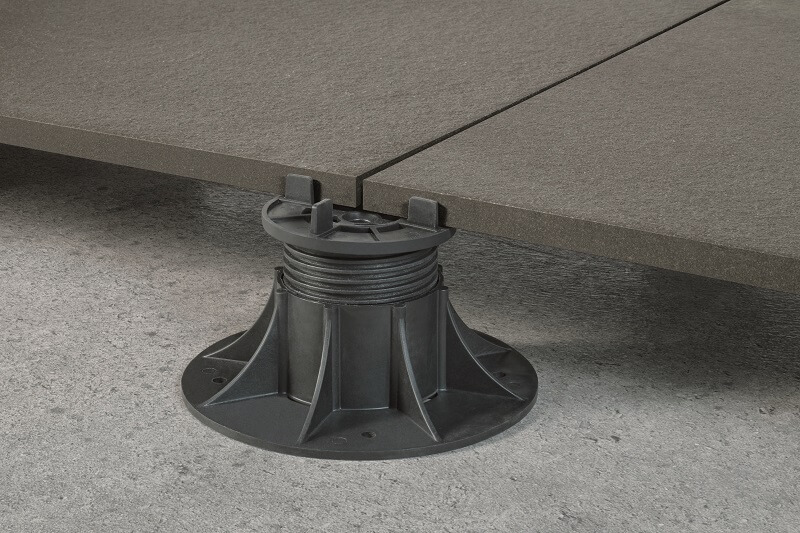 Układanie płyt tarasowych na wspornikach
Drugi etap to wykonanie nawierzchni. Płyty tarasowe układane są bezpośrednio na wspornikach. Ani wsporniki, ani płyty nie wymagają specjalnego mocowania, bo tworzą konstrukcję samonośną. Każda płyta opiera się swoimi narożnikami na czterech wspornikach. Dodatkowo, dla bezpieczeństwa, zalecamy stosowanie piątego wspornika na środku płyty. Przy zastosowaniu wysokich wsporników jest to szczególnie ważne i wpływa na bezpieczeństwo użytkowania nawierzchni. W układaniu poszczególnych płyt pomocne są lekko wystające pionowe odstępniki dystansowe na wspornikach, które jednocześnie pozwalają na zachowanie szczeliny między płytami.
Niekiedy, w celu zniwelowania różnic wysokości płyt oraz lepszej amortyzacji, na wsporniki nakłada się podkładki wyrównujące mające np. kształt kwadratów z gumy o grubości od 1,5 mm do 5 mm. W momencie dopasowywania materiałów / produktów o różnych grubościach podkładki dystansowe to jedyne rozwiązanie, które rozwiązuje problem różnicy poziomów. Do wykończenia brzegów tarasu polecamy elementy uzupełniające Libet Completto, takie jak stopnie schodowe Maxima, stopień Split czy drewnopodobny stopień Matera, obrzeża Kravento Alto oraz palisadę Split.
Jak wybrać wspornik na taras?
Wsporniki produkowane są ze wzbogaconego polipropylenu, dzięki czemu dobrze przenoszą obciążenia tak przy dodatnich, jak i ujemnych temperaturach, nie uginają się, są wytrzymałe i odporne na uszkodzenia. Libet posiada w swojej ofercie dwa główne rodzaje wsporników: o wysokości stałej (8, 10, 15, 16 mm) oraz regulowanej (w zakresach 30-45, 45-70, 70-120, 120-220 mm), a ich wybór zależy głównie od końcowej wysokości tarasu, rodzaju podłoża i efektu, jaki chcemy osiągnąć.
W ofercie dostępne są także głowice samopoziomujące o wysokości 16,5 mm, które po założeniu na wsporniki regulowane mogą zniwelować spadek podbudowy nawet do 7%. Dzięki zastosowaniu głowic nasz taras w górnej części będzie płaski (zerowy spadek – 0%).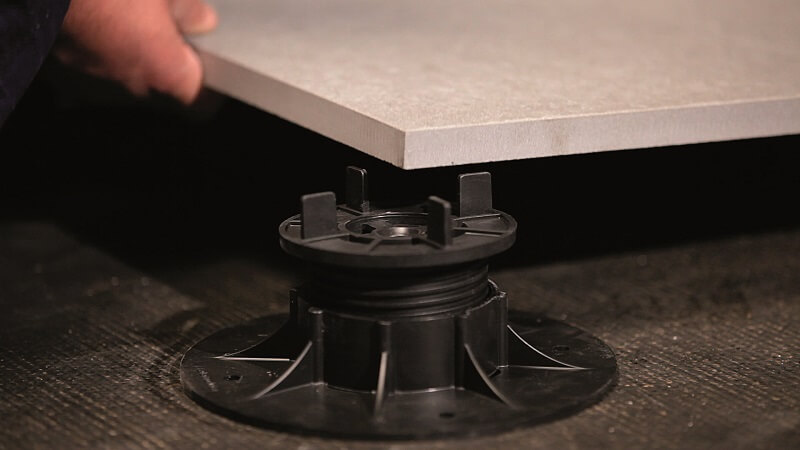 Jak wybrać płyty na taras wentylowany?
Równą i estetyczną nawierzchnię zapewnią: przestrzeganie zasad wykonywania tarasu wentylowanego oraz odpowiedni dobór płyt tarasowych. Wskazane jest stosowanie płyt o prostym, regularnym kształcie oraz, to bardzo ważne, takiej samej grubości. Dzięki temu po ułożeniu na wspornikach płyty utworzą równą płaszczyznę, doskonale spasowaną na stykach i pozbawioną efektu tzw. ząbkowania, który może być przyczyną dyskomfortu użytkowników tarasu.
Libet posiada w swojej ofercie produkty przystosowane do układania w technologii wentylowanej. Szczególnie polecamy płyty tarasowe Maxima, Tierra i Limbra z kolekcji Libet Impressio oraz płyty gresowe Sedimento, gres kamienny Aristoni oraz gres drewnopodobny Sundeck z linii Libet Ceramic o grubości 2 cm.